Pig Dyke Molly : The Music - 2009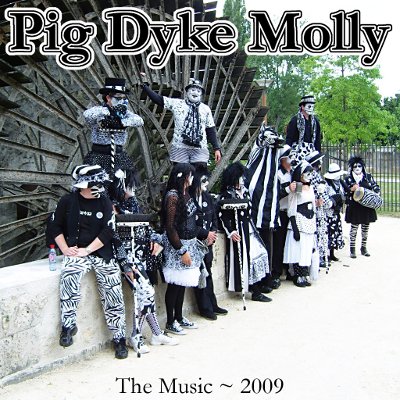 An album of The Pig Dyke band in 2008 and 2009 with:
Tom Sennett - melodeon
Anahata - melodeon
Mary Humphreys - English Concertina
Chris Kempton - percussion
Dave Parker - Sousaphone
Buy The CD
You can buy this CD from us for £10 anywhere you see us dancing, and you can also buy online for £11 inc. postage + packing using any UK credit or debit card via the secure NoChex server
Here
or by clicking on the button below:

(the sale will be shown as from anahata@treewind.co.uk, and on your credit card bill or bank statement as "NOCHEX")
Sound clips (MP3, about 1 min each)
Track List
Plug Holes (New Bathroom Suite)
Plug Holes (Gloucester Hornpipe)
Crew Cut (Yarmouth Breakdown)
Pig Swill (Robin's nest/Bound of the Fox)
Swarm (The Oak Leaves)
Don't Watch (Square Brackets)
Inevitable, but not a Taxi (King of the Fairies)
Burn The Short Curtains (Smash The Windows)
Pig Swill (Pig Flu Blues)
Old Broom (Road to...)
Bag of Chips (Savage Hornpipe)
Crew Cut (Grey Mare's Tail)
New Broom (Whitchurch Hornpipe/Shrewsbury Waltz)
Yaxley's Last Stand (Bartok Rumanian Dance)
Ethel's Cats (Robin Griggs' original tune)
Moral Turpitude(Jack The Horse Courser's Hornpipe)
Comments & reviews
Thanks for the CD - it arrived shortly after your email.
It's great and as an ex (Cotswold) morris dancer living in Scotland its great to hear dance music.
Also I owe you a great deal of thanks. My 14 year old daughter is very much into folk music but when she has it on in the car she constantly talks over it. The other night we went out to a singing gig together with you music playing in the car. Other than to say she was dancing around the kitchen to your music while making an apple pie she didn't say a thing! Thanks!!!
Wassail
Paul