Pig Dyke Molly - News
Latest First
Holmfirth Folk Festival
Sat 11 May, 2019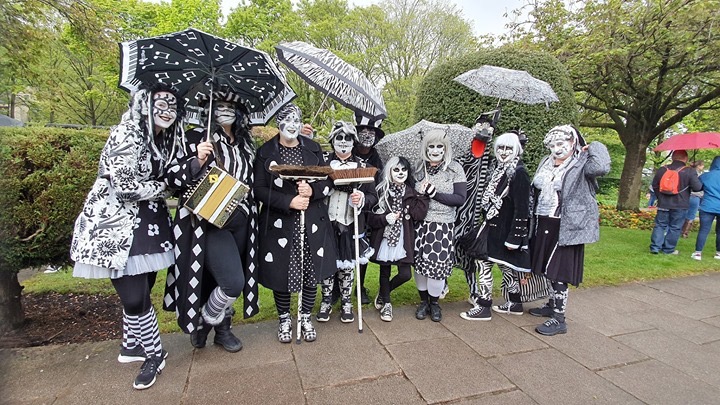 Busy weekend at Holmfirth Folk Festival. Parade, ceilidh spots, workshop and dancing both days in the part of the country where Last of the Summer Wine was filmed. Some of us Fenland folk struggled with the hills!
Eel's Day, Ely
Sat 4 May, 2019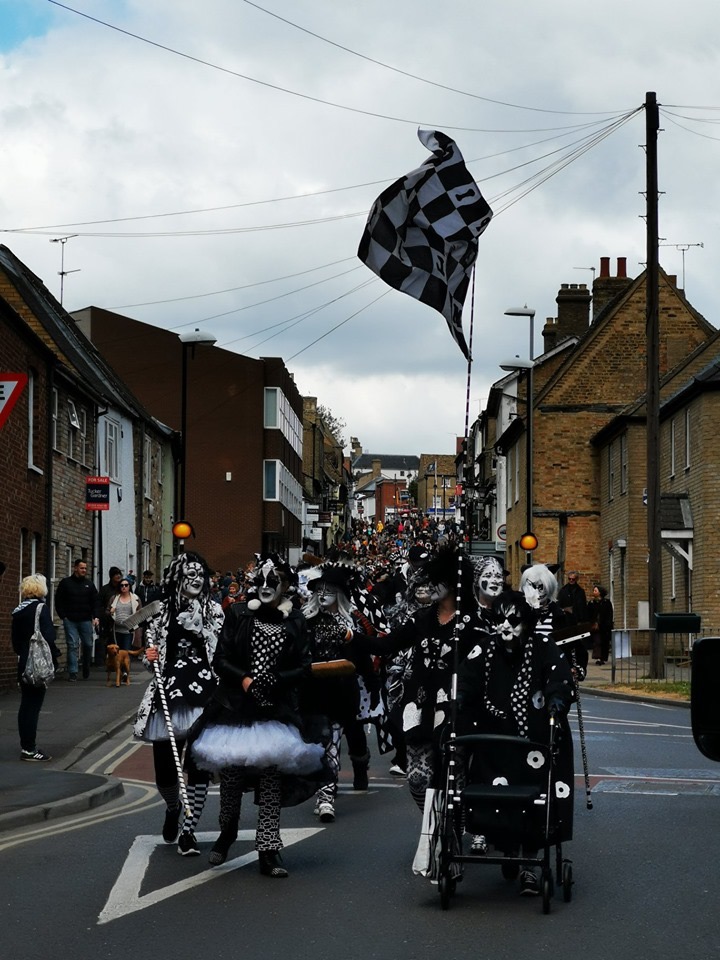 Sun, hail, wind and rain were braved at Eels Day, Ely. Our lead musician needed help keeping hold of her hat!
May Day
Wed 1 May, 2019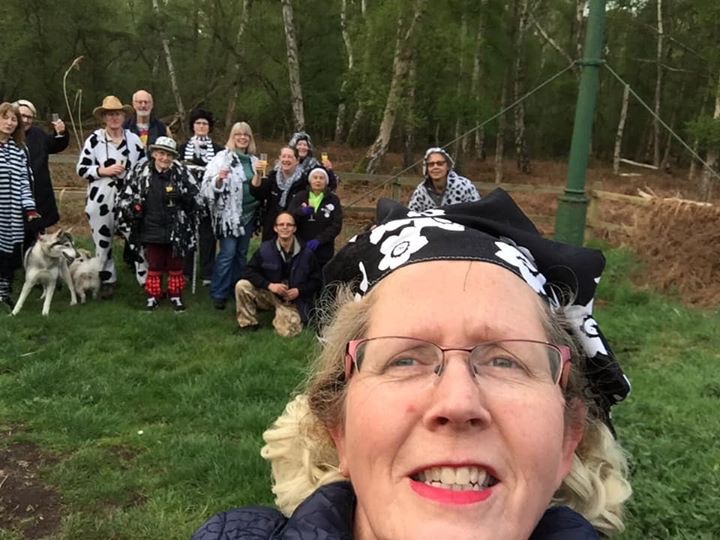 Some of the team danced at sunrise to welcome May Day. This is a bit of a tradition but we don't know why!
St George's Fayre, March
Sun 28 Apr, 2019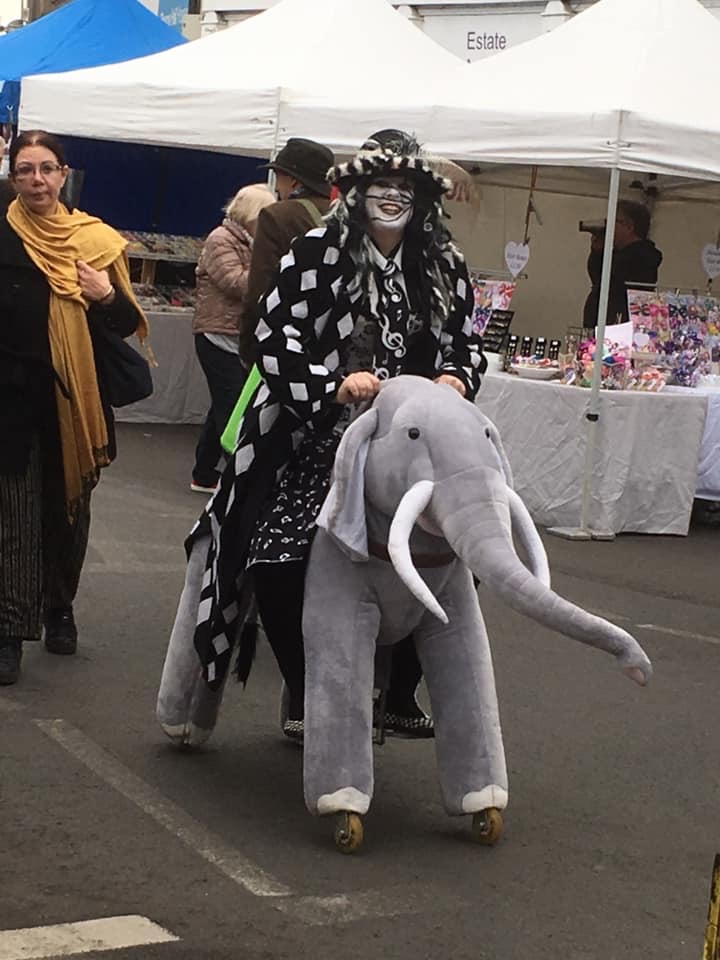 Certainly a fun day for our lead musician. Not only dancing and playing at the same time, at this event, but riding an elephant!
Nene Valley Railway
Sat 13 Apr, 2019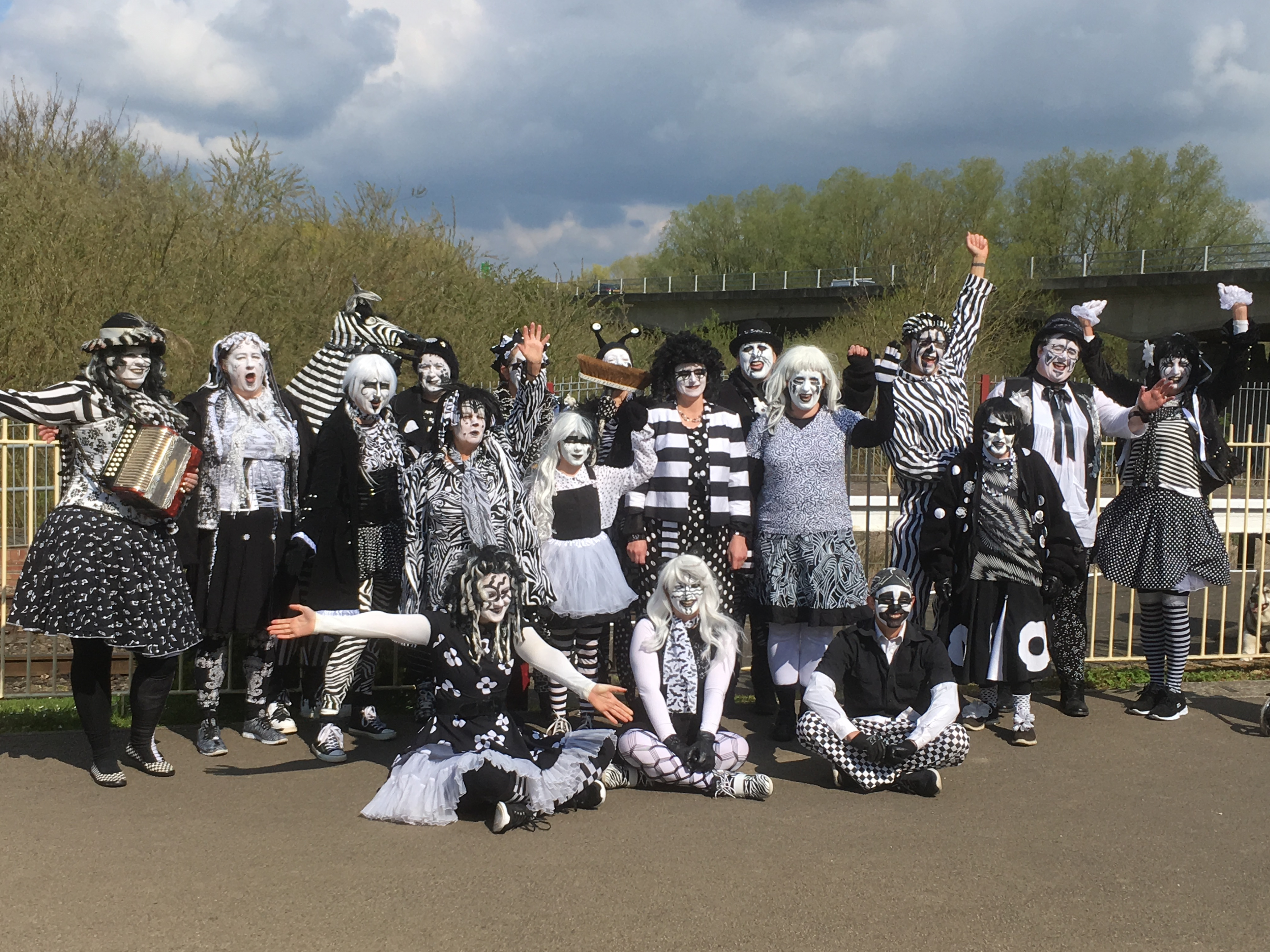 Pig Dyke Molly joined other teams at the Nene Valley Railway for their first Folk Festival. Teams danced at various stations along the line throughout the day, dancing on platforms, bridges and even the train.
Birthday!
Sat 10 Nov, 2018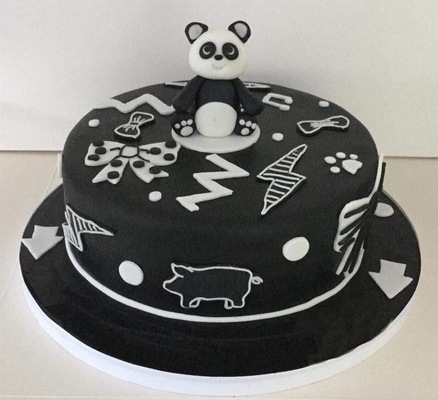 Happy Birthday to one of our younger members. Awesome cake!
Pub Night-Whittlesey, aka Pig Night
Mon 30 Jul, 2018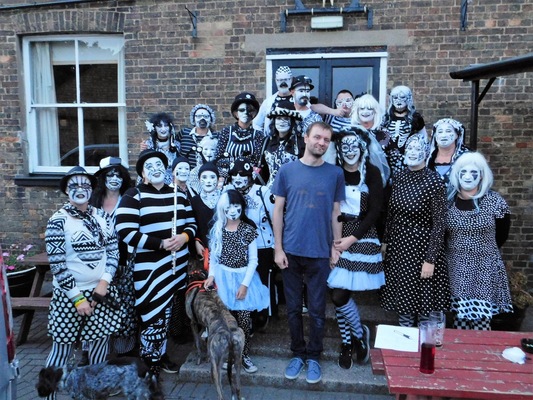 Tonight's pub night was an opportunity for us to dance out in costume and socialise. One of our members is getting married next week and experienced a 'Pig Night' instead of the traditional Hen/Stag Night. We would like to wish them both all the very best for their future together.
Arles
Sun 15 Jul, 2018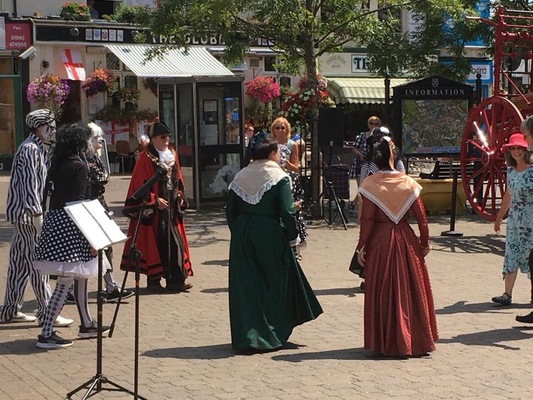 Watched the group perform at the Wisbech Arles twinning day in Wisbech on Sunday. Bright sunshine and high temperatures. The French ladies in their traditional costumes and the mayor in his robes and the performers deserve medals. The presenter gave the 'true' explanation as to why the pig dyke molly dancers wear the colours they do.Popular culture and some scientists believed that black and white stripes helped zebras and molly dancers keep cool (https://www.irishnews.com/magazine/science/2018/07/09/news/there-is-a-new-theory-on-why-zebras-have-black-and-white-stripes-1377914/). A sizeable sum spent on research has proved that this is not the case. Whilst zebras can't talk a far cheaper route might have been to ask the dancers "Do you feel cooler in black and white"? A simple yes or no would have provided the answer. On the plus side the dancers may be unlikely to be bitten by flies. Garry Monger - taken from Facebook post from Pig Dyke Molly Dancers Facebook page. Reproduced with permission.
Lobster Potties-Sheringham
Sat 7 Jul, 2018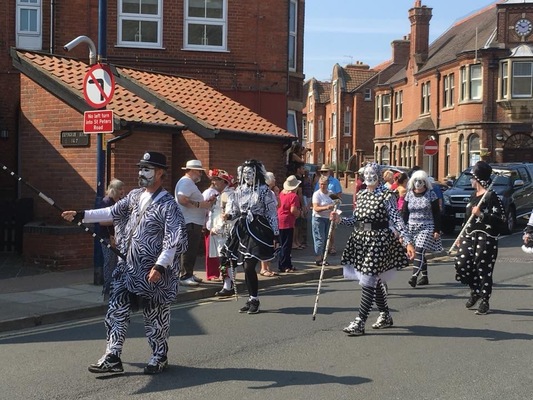 One of our favourite festivals, some would describe this as a sunny Straw Bear. Lovely seaside location and opportunity to catch up with friends, paddle in the sea and eat ice cream. Saturday started with a parade through the seaside town. Some sides made a world record attempt. Dancing ended in our finale in the arena with "Moral" where many sides and members of the public joined in. Kathryn, our lead musician encouraged other musicians to join in which resulted in a colourful and vibrant end to the day. Lots more dancing on the Sunday.
Stretton
Sun 1 Jul, 2018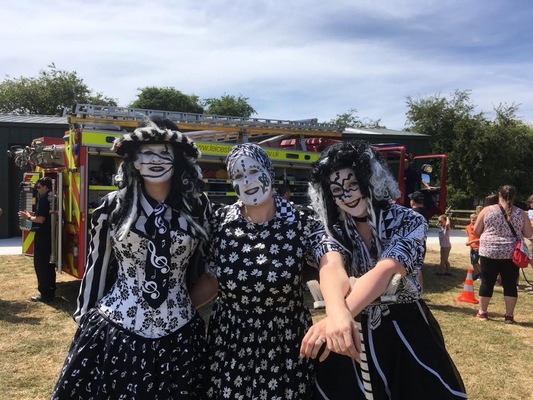 Pleased to be back in this area again. A lovely community event. Very hot for dancing!🌞
Castle Bytham
Sun 24 Jun, 2018
Pleased to be dancing in the home town of Sharon Woodward, Pig Dyke member for many years, along with her son, Isaak. We have several families within Pig Dyke Molly, great opportunity for them to spend time together and have fun.
Thorpe Hall-Charity Photography Event
Sun 3 Jun, 2018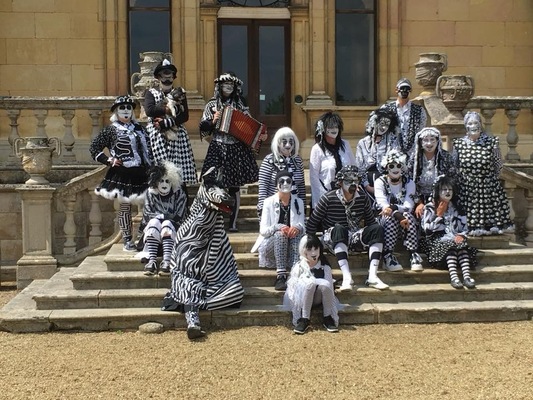 The team had fun posing for photographs in the grounds of Thorpe Hall. Thanks to John for sharing his prints with us.
St Neots Folk Festival
Sat 26 May, 2018
Dancing at St Neots Folk Festival with support from musicians from Crosskey Clog, meaning lots of costume changes. The team also joined in with other sides at the last slot and of course, everyone joined in with "Moral".
Joint Morris Organisation Event-Peterborough
Sat 19 May, 2018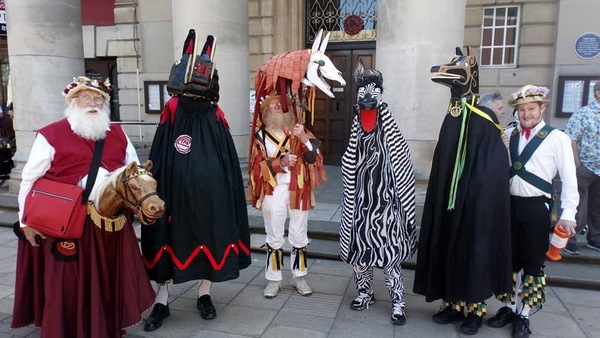 Pig Dyke Molly danced at various points around the city of Peterborough as part of JMO. Sides from around the country came together for a joint attempt at the world record which was covered by the BBC's Blue Peter. We were proud to see our friends, Crosskey Clog featured on the episode. The event coincided with the Royal Wedding, which meant a good turn out and party atmosphere in the city. Our musicians teamed up with other sides and even Nodger made new friends.
Holmfirth
Sun 13 May, 2018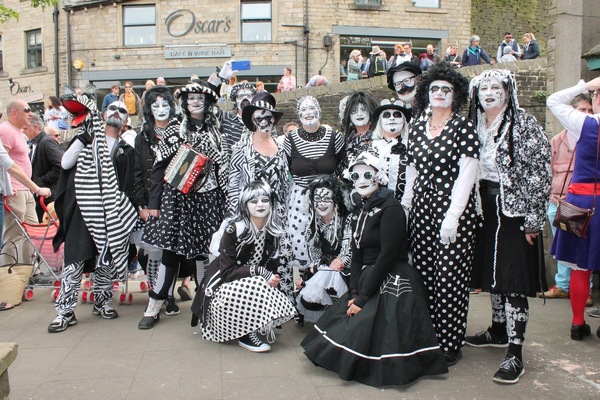 Pig Dyke Molly attended the Holmfirth Folk Festival, Last of the Summer Wine country. Dancing in the village on Saturday and Sunday. Events on the Saturday culminated in an uphill parade and an evening slot at the ceilidh. Coming from the fens, some of us found dancing up hill rather challenging. Great event meeting up with new and old friends. Thank you to Mark Hirst for some great photographs.
Mayday 2018 at Holme Fen
Wed 2 May, 2018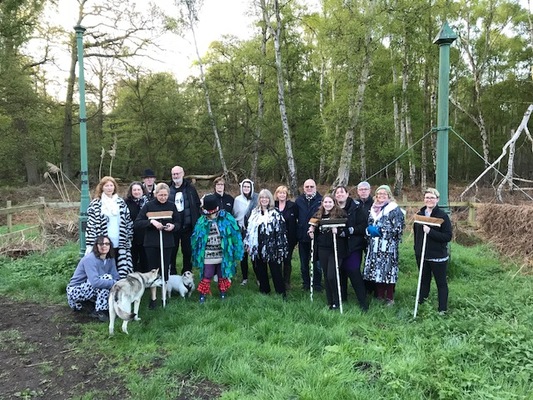 The happy gang of loonies that got up at stupid o'clock to freeze in Holme Woods - and ENJOY it! (as we do every year, even though none of us quite knows why) Photo: Fiona Ward
Headway Charity Presentation, January 2018
Sun 4 Feb, 2018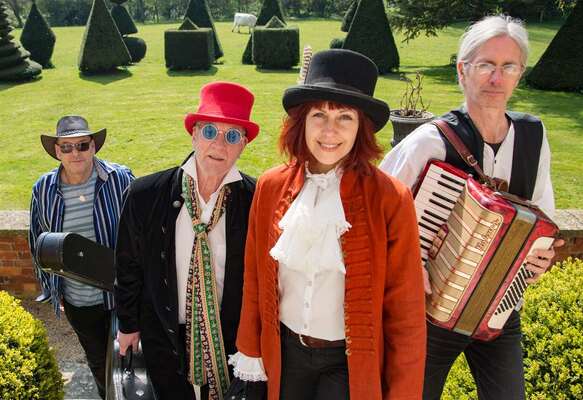 On 29th January 2018, Pig Dyke Molly were proud to present a cheque for £500 to representatives of the charity, Headway during our practice evening. The money was collected by Pig Dyke Molly on our regular New Years Eve tour of Whittlesey. We would like to thank the people of Whittlesey for their generosity. Headway is a charity that works to improve life after a brain injury.